We don't see fox squirrels that often, so catching this one on camera adds a new critter to the portrait collection!
He stopped atop the fencepost just long enough to play statue.
.
..and up the tree he scampers!
Fox squirrels are said to be the most colorful tree squirrels in the world, and look at that tail...like a red fox!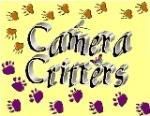 You can see more photos of creatures great and small at the
Camera Critters Meme
, hosted by Misty Dawn.